OPTIONAL ACCESSORIES
GAITING BAR FULL


$149.95
The full gaiting bar accessory is currently available for the Large model DC6 only. The gaiting bar attaches to the side of each guardrail. The gaiting bar aids your dog by helping to maintain proper position and poise while exercising. This accessory is popular with show handlers that want to work on the dog's movement (gait) while exercising or to develop rear drive in shepherd breeds.
GAITING BAR HALF


$19.95
The half gaiting bar is similar to a grooming arm in that it clamps on to either side guardrail and extends to the middle of the treadmill. This is our traditional gaiting bar and serves to aid your dog by helping to maintain proper position and poise while exercising. The half gaiting bar is only available for treadmills supporting the wire mesh sides and is not recommended for breeds that pull forward while exercising.
TRAINING BAR

$29.95
The training bar is available for the new model DC6 only. The training bar discourages dogs from running off the front when first introducing them to the treadmill. The training bar can be adjusted vertically and can be lowered to allow the dog to still exit from the front of the treadmill. Once your dog learns the exercise, the training bar can be removed altogether.
TIMER

$45.95
The timer is an option typically used by large kennels that have dogs waiting in line to use the treadmill. It is mounted to the front panel of the control box at time of order. The timer is not provided to leave dogs unattended while exercising (NEVER LEAVE A DOG UNATTENDED). The timer allows the handler to monitor training times and it will shut the power off to the treadmill when time expires. The timer also has a bypass feature should you not wish to use it.
REPLACEMENT PARTS
We typically have replacement parts in stock for all of our treadmill systems dating back 20 years. Please contact us for assistance with identifying and replacing parts.
CUSTOM PROJECTS

We welcome custom projects. Our products make great lamb, sheep, miniature horse and swine treadmills. Over the years we have manufactured custom treadmills for penguins, alligators, rats, mice, lizards and primates. We have worked with numerous universities and fortune 500 companies around the world to meet specific research needs. Should you have a custom treadmill project, please feel free to contact us.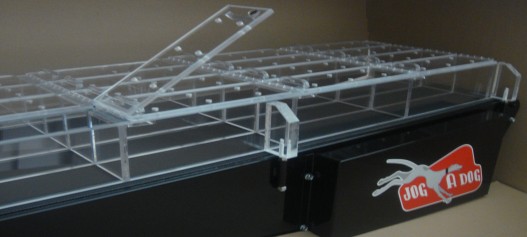 20 LANE TREADMILL FOR MICE
Pictured left is a twenty lane treadmill designed to accommodate mice. This project was commissioned by a university for research purposes. We developed a proprietary speed control that allows for a broad range of speed options below 1 mile per hour. Researchers like our high torque industrial motor as it provides consistent speed without fluctuating. As the manufacturer we can incorporate the most suitable running tread belt surface for your application. We have a thick heavy tread for hooved animals and a fine textured surface for mice.